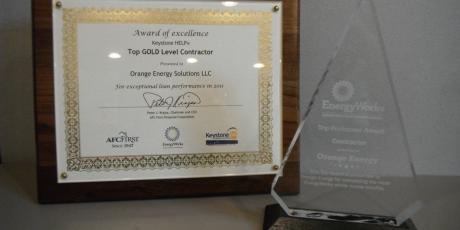 Orange Energy Solutions Wins EnergyWorks Most Home Performance Improvements Completed Award
On February 23, 2012, Orange Energy Solutions received an award for completing the most home performance improvements in Quarter 4 of 2011 from the EnergyWorks program.
The Award was presented to Orange Energy Solutions for completing the most home performance improvements of any EnergyWorks company. A generous monetary prize was also given out with the award. This will be saved to use as bonuses for the staff. EnergyWorks is a program that helps home owners reduce their home's energy use through energy efficient improvements, and a whole house retrofit is a comprehensive set of measures that make the entire home more energy efficient and comfortable. The program is available in Bucks, Chester, Delaware, Montgomery, and Philadelphia Counties.
The Award demonstrates Orange Energy Solutions' exceptional loan performance in 2011 by The Keystone Home Energy Loan Program (HELP). This is the second time Orange Energy Solutions received a similar award from the EnergyWorks program. No other firms in the program have earned multiple awards. This shows Orange Energy Solutions' leadership and expertise in the home performance contracting industry in the Philadelphia region.
Orange Energy Solutions is a full service home performance contracting company that uses the whole house approach to energy efficiency.  Orange Energy Solutions goes beyond "green" technologies to come up with a complete solution to home energy and comfort problems. Counter to national trends, the company has grown rapidly achieving in excess of a 2,200% increase in sales over the past 12 months.  
Scott Sidlow, Manager of Building Analysis and Sales at Orange Energy Solutions commented, "Thank you to EnergyWorks for this honor. This award clearly indicates Orange Energy Solutions is a leading provider of energy efficiency services in the Philadelphia area." Orange Energy Solutions is based in Havertown, PA and serve the Philadelphia area including Montgomery, Delaware, and Chester Counties.